We Do It All – So You Don't Have To!
Website Development is not a hassle – when you choose a professional to do it for you. Our website process is easy and straight forward. We just need to have a quick chat; no technical speak or hard questions, just a simple chat to get an idea of your business. That's it!  Simple!
The quick chat is all we need to get the website process up and running, we can do everything from there. This means, we can register your domain name, host your website and design a great looking draft website and make it live on the internet. Your draft website will allow you the get a feel for what your website could look like – but you are not bound to any design. The draft website development process allows you get your thinking cap on and say the things you like or dislike about your draft website – anything (or everything) can be changed; now or throughout the year.
Your design is never set in stone with Arrow Design – we know that changes happen and you contact us anytime to make any changes to your website that you want throughout the year. You can also choose to make those changes yourself through out bespoke content management systems. Our content management systems are also designed with our draft website development process so you are always in control if you chose Arrow Design.
Our Easy Website Development Process
1 - 'The Chat'
Website Development STEP ONE
The first step in your website development is to contact us. It's that simple – we will do the rest and you will not be pressured – it will be completely up to you!
Phone us, text us, email us, use the contact form below – how ever you prefer; just contact us! If you message us we will phone you at a time that suits you. When you have a talk with Arrow Design you talk to a professional. You will get an honest, reliable professional that treats you like a valued customer, even if you just want to discuss an idea or plan.
The chat is a no obligation, no technical jargon, down-to-earth, chat with a web design expert – simple!
2 - 'The Design'
Website Development STEP TWO
The second step, is up to you. If you choose to have your website expertly developed by Arrow Design, we can proceed in a manor that suits you best.
Depending on step one, we may have enough information to begin your website development draft straight away. If a payment has been made, we can make the website development process happen quickly and have your draft website live faster than you would think possible.
Depending on what you need, it is possible that your full website development process can be completed in less than one week.
3 - 'Site Is Live'
Website Development STEP THREE
The third step is view your live website.
We can complete everything you need from just a small chat. From this quick chat, the full website development development process can be completed.
Our draft website lets you say what you like (or don't like) about a website that is live. It is already there for you so you have something to work from. The live draft website can be changed completely or not at all – the choice is yours.
Many of our clients are delighted with the first draft website and don't need ANYTHING changed at all.
4 - 'Site Edits'
Website Development STEP FOUR
The fourth step in your website development puts the power in your hands.
It's your website and you are completely in control!
Whether you choose to have Arrow Design create a standard website for you or a full content management system website –you always have us at your side to help with everything you need.
No matter what website development option you choose, Arrow Design is available to make any changes you need, whenever you need them at no added cost.
Arrow Design; for website development as it should be!
Web Development & Much More!
We don't just offer easy, cost effective, professional website development that will showcase your business in the best light possible, we do lots more! We offer everything I.T. you could need – from high-tech apps to database payroll control systems and everything in between! If you need website work (or any I.T. services) created to absolute perfection, for an honest price – contact Arrow Design – Simple! 
Our websites process is different than others available because it is always done to perfection and the design is based around your needs – you will get exactly what you need, for less than you expect. Trust Arrow Design to give you the best possible website development services and I.T. help – no matter what you need.
We GET Business
Our development process is easy, fast and covers everything needed quickly – without effort to you. An example of our quick design process is exterior mouldings. This full e-commerce website designed and published – complete with products in record time.
Professional Website Development is made easy by Arrow Design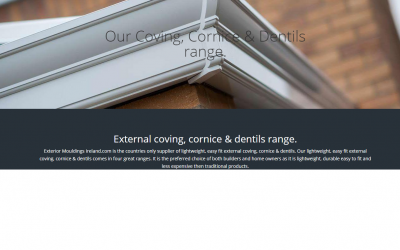 Leave a message and we will be straight back to you!