Ecommerce websites by Arrow Design = Money In Your Bank.
Ecommerce website designs are websites that we create for online business. They offer facilitates to sell, buy, exchange and receive cash direct an account of your choice – easy! An ecommerce website makes it easy for customers to buy your products online; you receive the cash and send your product in a way that suits you. Your website design can be created with many different payment options and at arrow design, we can help you chose the one that best suits you.
An ecommerce website can be difficult to manage but not with our responsive website designs. We can tailor make websites to suit virtually any need and it is not necessary for you to even have a merchant account with your bank. Every website we make is tailor made and is made to suit whatever need you may have. From travel websites to basic sales websites – we love creating ecommerce websites and always love a challenge so if you are thinking of something new – Arrow Design should be your first stop. We get business and help people, like you, make money on a daily basis.
All our ecommerce website creations are made just the way you want so if you need a content management system that allows you to easily manage your stock, prices, layouts our anything else we can do it all. Arrow Design – for the best ecommerce website imaginable – simple!
E-Commerce For Any Business
Ecommerce Websites To Trade
Have you the an idea for a website that is similar to the popular sales websites – we would love to make your website a reality. We can create similar any website – just like the really popular trade websites used by millions in Ireland and Billions internationally. We can help you with any ecommerce website you can think of. You also love a challenge and can help you with the marketing of any new idea you have so please do not hesitate to contact us for your ecommerce website idea!
Ecommerce Website Gateways
An Ecommerce website has many options to receive payments and can give you an alternative means to receive money – even at your store.
If you have had trouble getting a merchant account with your bank – an ecommerce website can provide you with an alternative means of accepting credit cards or debit cards at your premises!
Just ask Arrow Design about website options that can give you more options to receive payments.
Ecommerce website? Google Says Yes!
An Ecommerce website is an excellent way to get your brand noticed as by its nature, it fits more criteria that Google likes to promote.
When Arrow Design creates an ecommerce website, it tends to have a lot of products that have descriptions, comments, prices, images and more – all in a very structured, hierarchical base which is really favoured by google. Get more business from your competitors; with an ecommerce website by ranking better as well as selling more stock – simple!
Easily Maintain Stock
Arrow Design can make you an ecommerce website that makes it easy to keep track of every element of your online sales. Our tailor-made ecommerce websites are designed to make your life easy.
You will have the ability to manage stock control much easier as every time a customer uses your ecommerce website to purchase a product, your website deducts this sale from your inventory list.
Everything gets easier with an ecommerce website from Arrow Design – simple!
Ecommerce Website Creation & Much More!
Our ecommerce website design services is just the beginning. We are here to help all year round at all times to ensure that you never feel you are without a technical expert right beside you! We do everything I.T. and are always happy to help in anyway we can. We are small enough to care but large enough (& skilled enough) to solve any issue you may come across and can teach you any any system you would like to learn. Our services are tailored to meet the needs of our clients and we are happy to help with an ecommece website, a microsoft product, an android app or any in-house system you need help with. I.T. is what we do – Arrow Design is ALWAYS HERE TO HELP!
Our development process is easy, fast and covers everything needed quickly – without effort to you. A recent example of Arrow Design e-commerce websites is Farm Vet Supplies who is a long established vets practice.  Farm Vet Supplies incorporates all the modern functionality you would expect from an e-commerce system, including payment gateways, seo optimisation, and more.
Ecommerce Website Development is made easy by Arrow Design.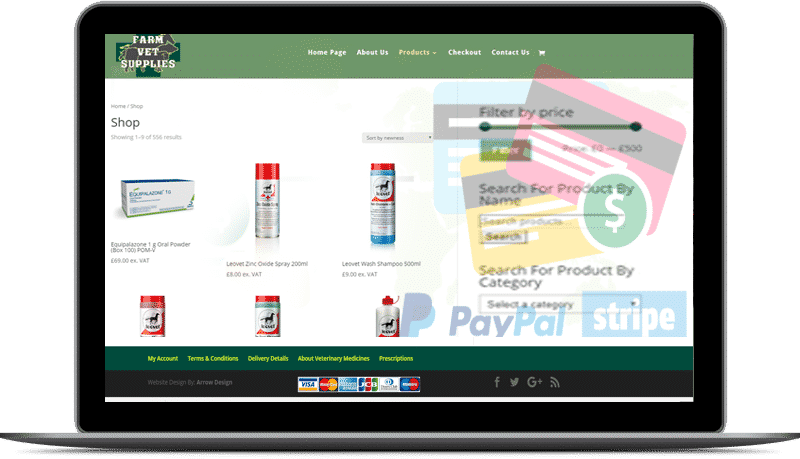 Leave a message and we will be straight back to you!