Irish Website Statistics 2018 show Irish Business Growth
Irish Website Statistics 2018 are looking great! The biannual report released by the IEDR (Irelands domain registry agnecy)  found that new .ie domain registrations grew by +39% year-on-year to 28,126, bringing the total .ie domain database to 252,222 at the end of H1 2018.  The majority (62.5%), of new .ie domains were registered by businesses (including corporate bodies). This all signifies great Irish Business growth, so far, in 2018.
Great Irish Website Statistics 2018 reported by the IEDR included:
154 .ie domains were registered every day, from Jan – June, increases in 31 of the 32 counties of Ireland!
Total number of registered .ie domains was 252,222
Number of .ie domains registered in the first half of the year was 28,126
The county of Leitrim took the podium for most amount of .ie domains purchased by county
Ireland ranks 16th out of 22 for the number of country domains per 1000 people
Dublin boasts 78 .ie domains per 1,000 peopls
75% of all Irish domains are owned by Irish businesses
This stats are great!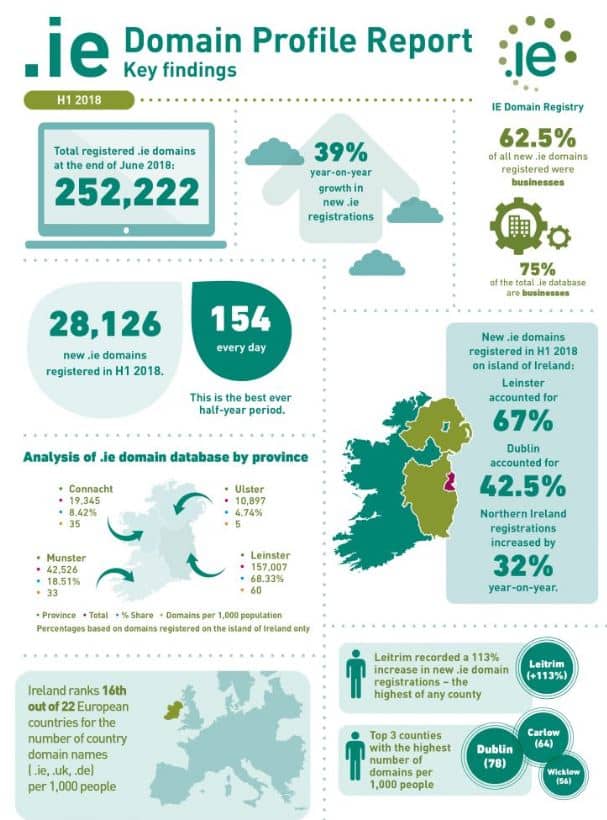 What is the meaning of these great Irish Website Statistics 2018?
Simply put; these website statistics reflect growth in technology platforms in Ireland and growth in Irish business as a whole! These statistics easily reinforce Irish economists growth forecasts. It is worth noting that just like all businesses, not all online businesses will succeed. Online presences need to be created properly and nurtured in the correct manor to stand a good chance of succeeding. All the parts need to work in harmony to gain growth within a highly competitive technological eco system. Great website platforms, great responsive webdesign and exceptional SEO and the right online security all need to come together to give an online business the best chance of growth.
Arrow Design can help with professional online growth so if you want to give your business the best possible start or a complete website overhaul – speak to us, we are here to help; always.
Read About GDPR Websites by clicking here – it's never too late!
Leave a message and we will be straight back to you!