Arrow Design – We GET Business –
Web Design Components Of A Successful Blog Site
Blogging is a successful, time tested way of using your website design to grow and expand the marketing of your brand. The blogging method is a unique way of building more connections, expanding brand awareness, and ultimately reaching more Internet users by using your website design. There are many different types of website blog from large scale company blogs to personal, interest-based blogs and all need to focus on the same tasks to ensure the blog provides its readers with the best experience. Below, our Dublin Web Design Specialists share the most important factors to running a successful blog: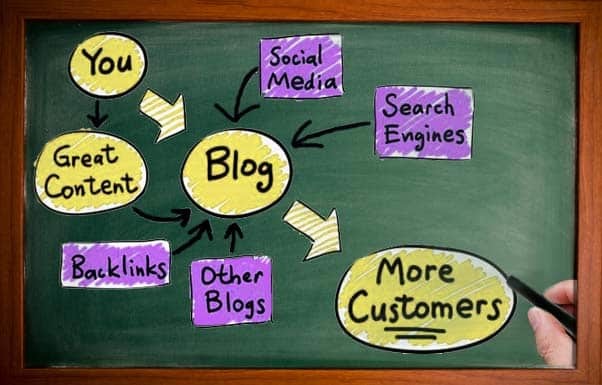 The Web Design Components Of A Successful Blog Website Are:
Use Great Navigation.
The navigation of a website (or blog) needs to be really easy to see and use. Great navigation means navigation that is easy to use and also really easy to browse through and read. Standardised blog features may or may not be useful to the blogs readers. A good example of this is if the blog is more topical in nature (example news blogs), more emphasis must be placed on the most recent posts and less emphasis should be placed on providing prominent navigation to older posts. Great navigation will also include an easy way for readers to review posts that are older but are relevant to the topic being discussed in the current post. Thought must be given to what a reader is most likely to want to navigate to next!
Relevant Post Categories.

 
Post categories are the mapping system that allows each blog post to be categorised in a way that is relevant to the readers needs. It is essential to a successful blog. Blog posts that are categorised in a meaningful way will not only help with search engine optimisation, but they will also allow blog posts with categories to be grouped together. Website users that are looking for related blog posts will be able to navigate using post's categories to find the most relevant blog posts.
Blog Post Schedules.
It is good practice to get into the habit of posting to your blog at a particular frequency. If you post at a particular time or day, it means that your loyal readers will start to expect new blog posts and 'tune in' to see what is new! Whether you posts ten times a day or once a week, try to remain to a consistent schedule to encourage your readership to grow. It will also get you into a routine that will ensure that you keep the blog growing. It is also worht noting that the frequency of the blog posts is far less important than consistency and content that your write.
Content, Spelling and Grammar.

 
If you want your blog to ever be taken seriously, it is most important to ensure that you use the best spelling and grammar possible. From time to time, 'slang' words and phrases may be necessary but it is really important to ensure that your readers know that the terminology you use has purpose. For a blog to be taken seriously by readers, just like any newspaper or book, you must take the time to proof-read posts and review content on multiple browsers and screen sizes. It is also important to ensure that you professional and sound authoritative – research all facts!
Leave a message and we will be straight back to you!